Hi!! So, you've probably landed on this page because you're either planning a bachelorette trip to Miami or just visiting for fun! Either way, I got you covered.
Now, this is coming from someone who did EXTENSIVE research on "Things to Do in Miami" because I had never visited… yet was planning my best friend's Bachelorette trip there. Intimidating, don't you think?! Alright, let's go ahead and dive in!
IN THIS BLOG
+ Planning Process
+ Where We Stayed
+ Bach Favors
+ Itinerary for Day 1-4
PLANNING PROCESS
The bride, Jay, and I have been talking about doing her Bachelorette in Miami since even before she was engaged! This was her #1 city that she has ALWAYS wanted to have her big weekend at! So, even though I knew I would be planning this trip ONE day, I waited a little because COVID hit. I wasn't sure what all would be open and didn't want to continue changing the itinerary.
5 MONTHS OUT:
Booked our flights (most of us flew Southwest) and AIRBNB. I'll go into more detail on the actual AIRBNB in the next section!
4 MONTHS OUT:
Started doing research on "best places to go" for a Bachelorette party in Miami + gathering some ideas from the group of girls.
3 MONTHS OUT:
Began making reservations for dinners, Drag Brunch, and searching for a potential promoter to work with for a pool party and night club.
Also, began gathering some goodies for the party's favors!
2 MONTHS OUT:
Planned out outfits, communicated set costs with the group, booked a promoter, and started putting together the final itinerary.
1 MONTH OUT:
Finalized itinerary, gathered final goodies and decor for the party, and confirmed all reservations a week out!
WHERE WE STAYED
We got an amazing deal on an AIRBNB on South Beach that would perfectly sleep all 10 of us! If I had to guess, I think we got such a great deal and found the place since it was earlier on in the year and people were not as comfortable with traveling.
THIS is the house we stayed at. It is technically a bed and breakfast that you can rent rooms out of. However, since we had 10 people, we just rented the house! I wouldn't necessarily recommend just renting a room from this property. It was GREAT for us, but may have been a little weird if others were staying right across the hall.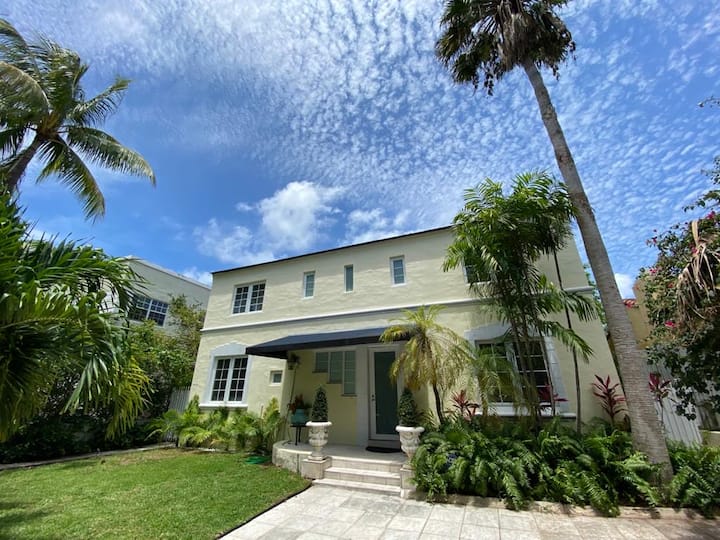 Here's a quick "Pro and Con" list of this particular AIRBNB.
PROS:
+ LOCATION! Was within walking distance of Ocean Drive… which is where ALL the action and beach are!
+ The home itself was BEAUTIFUL! It had an incredible front and back yard, 3 rooms with comfortable beds, and a great common space. It was very Italian themed because they owner is actually Italian!
+ Breakfast. Since this is a true bed and breakfast, the owners actually served us breakfast each morning outside on the back patio.
CONS:
+ The owner lives in the house in the back and just shows up in the house during the morning/daytime…. Ya. It was a little odd! However, him and his wife never came upstairs and they were super friendly and helpful. It was just a little bit of a unique experience having them in and out and he barely spoke english, which made it tough to communicate.
+ I asked if I could put decor up… they said yes… but then took it down haha! Again, maybe just a communication barrier issue.
OVERALL, I would recommend this house. The location and aesthetic of it was PERFECT!
BACH FAVORS
For the 10 gals on the trip, I wanted to make it extra special by providing bags for when the got there AND decorating the house to make the bride feel special.
IN THE BAG:
Spa face masks, BABE tank from Nautical Brides, nail polish, candy, LiquidIV, tattoos and hair ties from XOFetti, and lots of decor for the house!
ITINERARY
I spent a LOT of time researching restaurants, best areas, things to do, etc. and came up with the itinerary you see below! The TOP things we did were the Daer Day Club Pool Party and the drag brunch at Palace! We were so happy we did the night club the FIRST night since we weren't tired out. We also loved being in walking distance to the beach and Ocean Drive. We were also so glad that we worked with a promoter and made reservations for EVERYTHING!
DM me HERE if you want our promoter's contact info.
ALRIGHT! That's it! If you would like to see what all I packed for the trip, checkout my last blog post HERE. I hope you have THE BEST time in Miami!
Xx, Liz